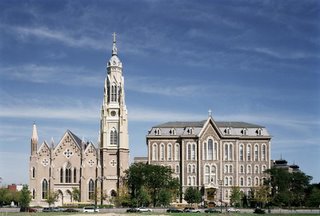 St. Ignatius College Prep has drafted Chicago's top church historian, Fr. George Lane, SJ to lead a bus tour of some fine Chicago Churches on the South and West sides of Chicago at 1pm on February 12, 2006 starting at St. Ignatius.
Fr. Lane is the President of Loyola Press, and the author of Chicago Churches and Synagogues, the seminal work of architectural documentation of Chicago's historic ecclesialogical architecture, as well as a consultant on the recent publication Heavenly City.
This tour sold out all 250 slots in a record 2 days. Now if the White Sox could learn how to sell tickets as fast as the Jesuits, our City Champions might be able to fill the bleachers with the Pale Hose faithful.